Набір SILCA грузики балансувальні/ніпеля 40mm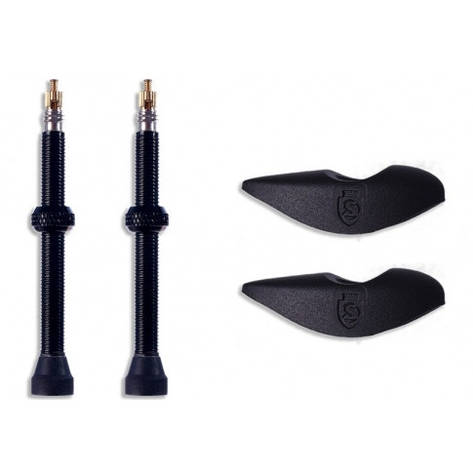 Інформація для замовлення
The highest quality Tubeless Valve stems with SpeedShield Rim Protectors for reduced weight, improved aerodynamics and more robust tubeless conversions, especially with carbon and deep section wheels.



Less than half the weight of brass valve stems




50-200% Stronger than typical aluminum valve stems




Ultimate level, fully machined brass valve cores with improved airflow




SpeedShield Improves wheel aerodynamics while protecting carbon rims




Spherical nut eliminates bending forces on valve stem for improved strength




Available 44, 60, 80, and 100mm lengths (note 100 is 60+40mm Extender)




Kit contains 2 Valve Stems, 2 Spherical Valve Nuts and 2 SpeedShield Rim Protectors



SILCA Tubeless valve stems are designed to strike a balance between weight, strength, airflow and ease of installation.  We started this project out of our own frustration at the two extremes of product in the market: inexpensive, heavy brass valve stems, or uber-lightweight aluminum stems that had reputations for being problematic in the field.  In classic SILCA fashion, we set out to understand the issues and develop a better solution.  
For SILCA Tubeless Valve Stems, we've chosen to keep the geometry of the finest brass valve stems, while producing them from the finest cold drawn aluminum bar rather than a hollow extruded bar.  This process is less cost effective than extrusion, but allows for a higher material yield strength and more accurate machined parts.  As a result, our valves weigh less than half of brass valve stems, yet are 50-200% stronger than common lightweight aluminum valve stems.  
We've paired these valves with the finest, fully CNC machined valve cores you can buy.  Just looking at them, you can see the quality, from the fully machined brass pin with roll formed thread, to the spin-formed ridge (instead of crimped) that keeps the valve nut from unthreading too far.  The fully machined design leaves more internal space within these valves allows for better airflow as well as making them more tolerant of sealant.
Perhaps the most exciting feature of the SILCA tubeless program is the Speed Shield. Speed Shield grew out of our frustration with valve stem nuts scratching our rims...particularly our carbon rims!  The concept grew out of an initial study we did on ways of improving aerodynamics around the valve stem, which proved out that 'shielding' the valve stem could save about 0.15-0.20 watts of energy per 10mm of valve stem encased in the shield.  Of course you cannot shield the whole stem, but we looked at this a second time in regards to tubeless and found that shielding the lower 10mm of the stem AND the nut resulted in even greater savings, 0.2-0.3 Watts per wheel at 30mph.   Each Speed Shield contains a spherical recess to hold the valve stem nut, and the high durometer, high strength silicone is optimized to ensure the valve stem maintains optimal tension within the rim so that it remains sealed, but also ensures there are no bending loads in the stem which are the cause of so many failures in aluminum stems.